South Africa v Australia: Cricket World Cup 2023 semi-final – live | Cricket World Cup 2023
Key events
"I'm sure I'm not the only one thinking, 'Are Australia in danger of pulling out the perfect game one match too soon?'" says Scott Probst. "A bit like the English beating the All Blacks in the rugby World Cup in Japan and then going down to South Africa without a great showing in the next game? Thoughts?"
My first thought is that the sporting psyches of the two countries are very different. Historically, Australia are more likely to follow a perfect performance with an even better one.
"Been a bit late checking the scores today," says Anand. Has anyone blamed anyone else for changing the weather for this match?"
1992 World Cup draft
These podcasts are lots of fun to record. If you're a cricket nerd, you'll like them. And if you're not, just vote for somebody to get our poll moving.
"G'day Rob," writes Chris Paraskevas. "Only catching my first glimpses of this because Australia v Bangladesh has had prime slot on the tele till now (for clarification: that's a game of football). Is it fair to say that Australia are doing their best nationalmannschaft impersonation and peaking at precisely the right moment? Starc in particular is so adept at timing his rhythm and buildup at major tournaments – his consistency in the big games is unreal. He and Hazlewood don't click anywhere near enough at ODI level, but when they do… few pairs are better."
The intensity of this performance has been mildly frightening – not just the bowling but also the brilliant, aggressive fielding of Warner and Labuschagne. They saved five or six boundaries between them.
It doesn't seem too bad so hopefully it will only be a short stoppage. South Africa will hope it rains for the next 36 hours: if there's no result they will go through on a vile technicality by virtue of finishing higher in the league stage.
14th over: South Africa 44-4 (Klaasen 10, Miller 10) Pat Cummins replaces Hazlewood, who bowled a masterful Test-match spell of 6-1-12-2. His first ball is driven crisply through extra cover for four by Klaasen, who then steals a second run on the leg side. That kind of controlled positivity is South Africa's only chance of getting back into this match.
Miller, who looks understandably nervous, chips Cummins just short of Hazlewood at mid-on, with the ball bouncing past him for four. Time for drinks. South Africa need a stiff one.
"It's easy to say with hindsight that Bavuma shouldn't have batted first in muggy overhead conditions but perhaps it wouldn't have taken that much foresight to have imagined the consequences of facing Starc, Hazelwood and co in this context," says Colum Fordham. "I am rooting for South Africa but unless Miller and Klaasen play special innings, this match is virtually over. The Proteas' woes are being compounded by the Australian's stunning fielding."
It was a fiendishly difficult decision because South Africa are so much better batting first. And although it's muggy, you never know how much the ball will move until you get out there. I still think he made the right decision at the time, though I appreciate that sounds absurd at 40-odd for four.
13th over: South Africa 32-4 (Klaasen 3, Miller 5) Klaasen chips Starc just short of cover. This is Starc's seventh over, apparently the longest spell of his ODI career. He's starting to tire a little and will probably be replaced after this over.
"Baby it's cold outside," says Sarah Bacon. "but I'm feeling all gooey and warm from the marvellous start Oz has made this morning. I really do need to leave – have to drop the car in to be serviced – but with South Africa's run-rate hovering around TWO after 12 overs, it'd be churlish to depart, amirite? And FOUR wickets down is just … staggeringly good."
They've been magnificent.
12th over: South Africa 28-4 (Klaasen 1, Miller 4) David Miller edges his first ball just short of slip, with the ball bouncing through for four runs. Just as in the 2007 semi-final, Australia have surely won the game with the ball in the first hour.
Australia's bowling has been relentless. People will talk about South Africa bottling another semi-final, but even India would struggle cope with this. It was another immaculate delivery from Hazlewood that van der Dussen, pushing defensively, edged straight to second slip. He fought desperately hard to survive, but the drip-drip effect became too much.
WICKET! South Africa 24-4 (van der Dussen c Smith b Hazlewood 5)
My days, this is brutal.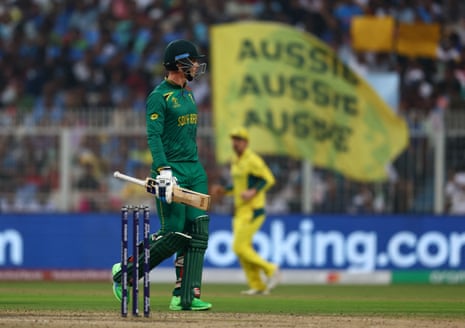 11th over: South Africa 22-3 (van der Dussen 5, Klaasen 0) Mitchell Starc has figures of 6-1-14-2, and I don't know what else to say.
Markram sliced an impatient drive to backward point, where Warner held a sharp two-handed catch to his left, threw the ball up and did a jaunty little dance on the spot. Australia have been fantastic.
WICKET! South Africa 22-3 (Markram c Warner b Starc 10)
David Warner does a silly little jig of delight after catching Aidan Markram at backward point. South Africa are in all sorts.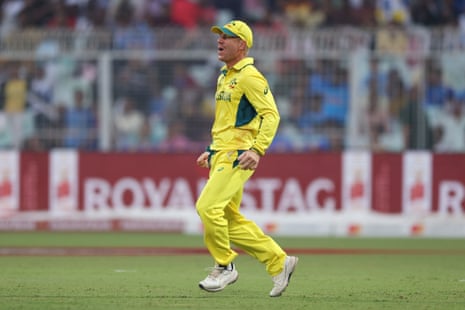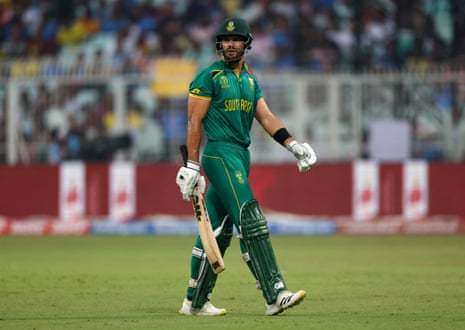 10th over: South Africa 18-2 (van der Dussen 5, Markram 6) Hazlewood is bowling so well that Cummins will extend his first spell for as long as possible – even though he must be itching for a crack himself.
Markram is too early on a pull and gloves the ball into the off side. The next ball, a beauty, jags back to cut him in half. This is a merciless test of South Africa's mettle.
9th over: South Africa 17-2 (van der Dussen 5, Markram 5) Labuschagne saves three with a marvellous diving stop at extra cover. That's four great stops in the covers now, each contributing to the asphyxiation of South Africa.
If South Africa lose another wicket now, their heads could go completely. Markram has a wild slap across the line and is beaten on the inside – but he then takes advantage of a freebie on the pads, clipping over square leg for four. That's the first boundary of the game from the 52nd delivery.
8th over: South Africa 10-2 (van der Dussen 4, Markram 1) Hazlewood beats van der Dussen again, prompting Cummins to bring in a third slip. Van der Dussen tries to something, anything, by walking down and across to clip a single to mid-on. As a neutral this is grimly compelling, but it must be a horrible experience for any South African fans.
"The thing is that it wouldn't have been a case of dropping Bavuma," says Tim Doyle. "It would have been a case of of leaving him out because he's not fit. Just as New Zealand left Kane Williamson out of several games because of his leg and then finger injuries. A World Cup semi-final against Australia is no place for an injured opener and it suggests a leadership team reluctant to make the tough calls."
I think, admittedly from afar, that it's more complicated than that. Pat Cummins would have played today if he was 90 per cent fit. Don't get me wrong, I do think South Africa would probably be a better team right now with Hendricks opening, but it's an extremely delicate situation. Had they dropped their captain and then lost, they'd have been savaged for panicking and overthinking. I wouldn't have fancied Hendricks' chances in these conditions either.
7th over: South Africa 8-2 (van der Dussen 3, Markram 0) Van der Dussen is beaten three times in the course of a brilliant over from Starc. Warner's third excellent diving stop ensured it was also a maiden. Look, this isn't Johannesburg 1999, but conditions are much tougher for batting than South Africa would have expected. All they wanted was to bat first on a dry, flat, hard pitch.
Helpful bowling conditions are all well and good but you have to take advantage of them. Australia have been intimidatingly good both with the ball and in the field.
"Is it time," says Stephen Cottrell, "for the giant from Twin Peaks yet?"
6th over: South Africa 8-2 (van der Dussen 3, Markram 0) Aidan Markram is beaten by his first ball, a nasty lifting legcutter. Hazlewood, who has bowled forensically in helpful conditions, has figures are 3-1-3-1.
This is a huge wicket. The pressure of dot balls finally got to de Kock, who crashed the ball miles in the air back over Hazlewood's head. Cummins backpedalled urgently from mid-on to take a brilliant two-handed catch above his head – and he held on as the force of the blow knocked him off his feet. It was almost identical to Kane Williamson's catch to dismiss Rohit Sharma yesterday. But this is an even bigger wicket: de Kock has gone for 3 from 14 balls.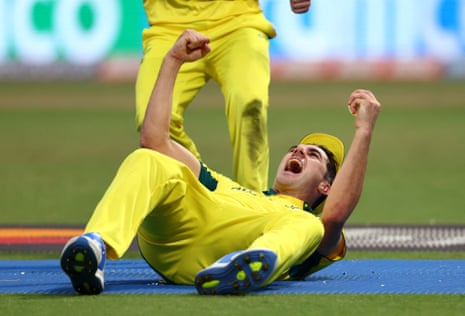 WICKET! South Africa 8-2 (de Kock c Cummins b Hazlewood 3)
Pat Cummins takes an immense catch to get rid of Quinton de Kock!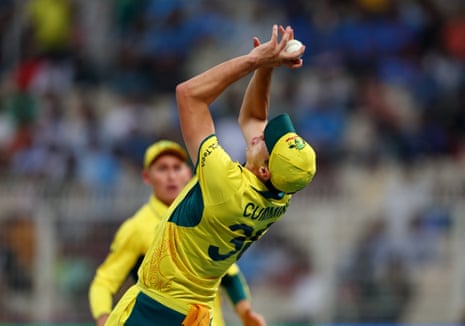 5th over: South Africa 8-1 (de Kock 3, van der Dussen 3) There's a bit of swing for Starc – nothing extravagant, but enough to make the batters wary. Van der Dussen tries to land the first counter-punch, walking across to crack a drive that is brilliantly stopped by the diving Warner in the covers. Warner does it again next ball, this time diving to his left. He'll start his innings on 8 not out.
Van der Dussen eventually gets a back-foot drive past him for a couple of runs. The score doesn't look great for South Africa, and that's an understatement, but it's essential they survive this new-ball spell. We know they can catch up later on.
"Good morning Rob from a sunny Cape Town," writes Trevor Tutu. "I was half-minded to stay at home and watch the match on telly, but my conscientiousness kicked in and I set out for work, safe in the knowledge that the OBO would keep me informed.
"And what happens when I turn to the OBO? Bavuma is out before he was even in! You are going to have to pull your socks up Rob, if the Proteas are to get to the 350 they need to make this match safe."
350 indeed.
4th over: South Africa 6-1 (de Kock 3, van der Dussen 1) Winning the toss should have been a huge advantage; instead, on a sweaty pitch, it looks like a mixed blessing. South Africa were affected by the weather when they were eliminated in 1992, 2003 and 2015, but they probably thought they were safe in Kolkata.
Hazlewood continues to bowl as if it's a Test match. He goes up on his own for caught behind after beating van der Dussen with an extravagant legcutter, and another terrific over ends with van der Dussen inside-edging a single. Had he missed that he would probably have been LBW.
3rd over: South Africa 4-1 (de Kock 2, van der Dussen 0) de Kock is beaten, chasing a wide outswinger from Starc, and the only runs from the over are a leg-bye and a wide.
These are dangerous times for South Africa. If they lose de Kock – who has already made four centuries at this tournament, including a tremendous 109 against Australia in Lucknow – the ghosts of World Cup past will be screeching.
"Just the start we didn't need!" writes Duncan Bonnett. "Temba should not have been in the side today anyway – still not 100 per cent fit, by his own admission, and woefully out of form in the World Cup. Reeza Hendricks would definitely have been a better pick, with Markram as skipper."
I know what you mean, and Hendricks batted superbly against England, but it would have been an extraordinary call to drop the captain for a World Cup semi-final. Is there any precedent for that? I feel really sad for Bavuma, who came into this tournament in spectacular form but hasn't got past 35.
2nd over: South Africa 2-1 (de Kock 2, van der Dussen 0) Josh Hazlewood's first delivery lifts and seams to beat de Kock, who then edges wide of slip for a single. The new batter Rassie van der Dussen keeps out a good nipbacker and is cut in half by a jaffa.
That's a fantastic start from Hazlewood. The overhead conditions are a bit of a gamechanger, and Australia are on the prowl. South Africa need to treat the first 10 overs like a Test match.
1st over: South Africa 1-1 (de Kock 1, van der Dussen 0) We've all been talking about 1999 this week but there's another precedent South Africa will be mindful of – their shambolic, overeager batting performance against Australia in the 2007 semi-final.
Temba Bavuma has gone for a fourth-ball duck. It was a fine delivery from Starc – tight line, just back of a length – and Bavuma snicked a defensive push through to Josh Inglis. Not quite the perfect start for Australia, because they've have preferred to dismiss Quinton de Kock, but it's not far short.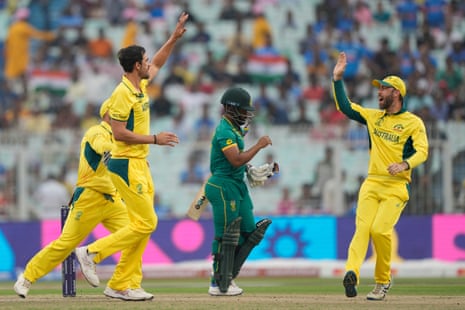 WICKET! South Africa 1-1 (Bavuma c Inglis b Starc 0)
Goddim!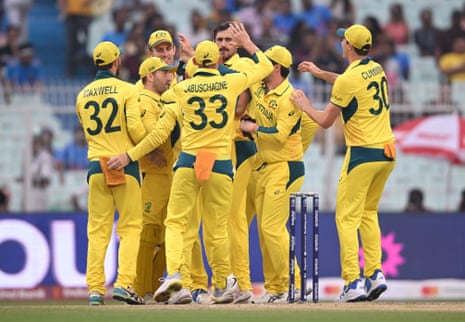 Mitchell Starc will open the bowling. He hasn't had a great tournament – 10 wickets at 44 – but it's overcast and the new ball should swing. This is his chance.
ICYMI South Africa are about to play Australia in a World Cup semi-final, and it is gargantuan.
May the best team meet India in the final on Sunday.
"Re: your comment about a reserve day," begins Jonathan. "Are all 20-over match thrashes or just this hypothetical one? I fear the T20 purists would object to such a word."
So would anyone with a half-decent command of language, but I'd just stumbled out of bed and my brain only presented me with a couple of options. I reluctantly concluded that '20-over thrash' was preferable to 'desperate 20-over arsenipper'.
"Well here we are, Rob," says Guy Hornsby. "What's par on this pitch? SA winning the toss is massive (which is a shame really, as was yesterday) and they'll want to go big so will Australia be happy chasing anything over 320? I'd assume not. And that SA will want to bat them out of the game, with 350+.
"Also a big shout to Marnus, who having been left out of the squad, is now a lock. I'm not sure he and Smith together is great in a chase (or generally) and while it feels like heresy, I'd have picked Stoinis over the great man, who doesn't seem who he once was in the short format. Everything ends in the end, I guess."
Have you been watching Six Feet Under again? I've no idea what a par score is, as I don't have a great view of the pitch from my office in Bruton. But my instinct, based on the experts' views, is that it's between 280 and 320. The first 10 overs are vital for South Africa because the new balls should do a bit. It's important they don't lose early wickets plural.
Trigger warning
Ricky Ponting says Adam Zampa is Australia's most important player. The stats back him up. In ODI victories he has taken 121 wickets at 20.83; in defeats his record is 41 at 48.97.
Pitch report Matthew Hayden, once again wearing his magnificent pink fedora, thinks there will be plenty of turn as the match progresses. He also says South Africa need a minimum score of 300.
Ali Martin's preview
Temba Bavuma says he isn't 100 per cent fit, though he was never going to miss this game. South Africa bring in Tabraiz Shamsi for Lungi Ngidi, which means the feisty Gerald Coetzee keeps his place. Bavuma didn't specify whether Ngidi was injured or omitted.
Australia bring back two big guns, Mitchell Starc and Glenn Maxwell, for Sean Abbott and Marcus Stoinis. That means they've kept the middle-order insurance of Marnus Labuschagne.
South Africa de Kock (wk), Bavuma (c), van der Dussen, Markram, Klaasen, Miller, Jansen, Coetzee, Maharaj, Rabada, Shamsi.
Australia Head, Warner, Marsh, Smith, Labuschagne, Maxwell, Inglis (wk), Cummins (c), Starc, Zampa, Hazlewood.
South Africa win the toss and bat
Temba Bavuma humours Mike Atherton by saying he considered bowling first because of the conditions. Pat Cummins would also have batted, though he doesn't seem too disappointed. The new ball should swing given the overhead conditions.
The covers are off and it looks like we're going to start on time.
Seven of the likely Australian XI were part of the squad that won the 2015 World Cup. This is their last dance.
Glenn Maxwell came into this World Cup as a handy bowler who used to bat. It's fair to say that is no longer the case.
The covers are on in Kolkata, so the start is likely to be delayed. The forecast for rain adds another layer of intrigue to this game. Both teams will surely bat first if they win the toss – South Africa because they want to, Australia because South Africa want to – but a reduced runchase would muddy those particular waters.
There is a reserve day if necessary, though the umpires will make every attempt to finish the match today, even if that means a 20-over thrash.
Look, it was always going to be like this. As the penny dropped, in the first fortnight of the World Cup, that South Africa were serious contenders, the cricket world instinctively understood that they would have to beat Australia at some stage. Not in the league stage – though they did that handsomely – but in the knockouts, when it really counts.
One statistic tells the story of this game. South Africa are hoping to reach their first World Cup final; Australia expect to reach their eighth. This is a humdinger of a semi-final between two teams who have more in common than they would ever dare admit – and fundamental differences that South Africa need to overcome.
The history of this fixture is simple: Australia win the games that really matter. In that context, South Africa's outstanding run of 16 wins in the last 20 ODIs against Australia is almost ominous, because none of those games were anywhere near as big as this.
But they have a proven template to beat Australia, and everyone else for that matter: win the toss, bat first, bat big, ideally huge. They are too good not to crack this thing eventually. We're about to find out whether today is the day.