South Africa v Afghanistan: Cricket World Cup 2023 – live | Cricket World Cup 2023
Key events
16th over: Afghanistan 62-3 (Rahmat 13, Azmatullah 4) Aiden Markram comes on to bowl his first full over, and Rahmat Shah rocks back to drive his first ball stylishly for four. That's the first boundary since the 8th over.
There's a bit turn for Markram, but it's slow and you'd expect Afghanistan to target him. If Ngidi stays off the field he'll probably have to bowl another six overs.
15th over: Afghanistan 56-3 (Rahmat 8, Azmatullah 3) Three singles from Maharaj's fourth over. Afghanistan would probably take a score of 250, especially as the pitch is already doing a bit for Maharaj, so it makes sense for Rahmat and Azmatullah to sit in for a while.
"Following your coverage from Suva (Fiji) and you are doing your best for to us to change channels on this match," says Brendan Favot. That's a compliment, right? "As an Aussie I am still abuzz with Maxie's innings and can't wait until Thursday's game against the Saffers!"
As a neutral, I feel the same. There are so many layers to it: recent history, distant history, the toss, the tesosterone, the league game, the contrasting batting approaches, Klaasen v Zampa, Head v Coetzee (if he plays), and on and on.
14th over: Afghanistan 53-3 (Rahmat 6, Azmatullah 2) Coetzee is bowling with the intensity of a man who wants to give the selectors an easy decision ahead of the semi-final. Another quiet over gives him figures of 4-1-14-1, and that's drinks.
13th over: Afghanistan 51-3 (Rahmat 5, Azmatullah 1) Aaron Finch, an excellent addition to the commentary team at this World Cup, praises Maharaj's "unbelievable control of length". Legspinners will always be the most exciting slow bowlers but there is something uniquely enjoyable about watching a flighty left-armer bowling with swagger, mischief and an unspoken sense of superiority.
Maharaj is teasing the batters with his changes in flight, pace and line – but not length, never length. Three singles and a wide from the over.
12th over: Afghanistan 46-3 (Rahmat 2, Azmatullah 0) "Good morning Rob," says Krishnamoorthy V. "I understand your ennui in covering dead rubbers. This must feel like watching Waiting for Godot, in a foreign language with Jose Mourinho."
I was only joking (though it is a good episode of Frasier). I enjoy games like this: they allow a few digressions and end-of-term reflections. And, well, I'm lucky as hell to do this job.
11th over: Afghanistan 45-3 (Rahmat 1, Azmatullah 0) Maharaj has started immaculately: 2-1-4-2. The pitch is helping a little but he is bowling with such confidence and accuracy.
"You could teach an entire moral philosophy seminar from what happened in the Australia Afghanistan match," writes Robert Wilson. "All sport is a moral and emotional zero sum game. Someone wins because someone loses. But cricket is even worse than that. Maxwell's preposterous Roy-of-the-Rovers double-ton was profoundly unwhimsical.
"Yes, it briefly made you feel like a 12-year-old boy (or girl) again, living in a world that is nothing but seamless possibility. Yes, it reduced the impeccably virile Adam Collins to bromantic tears. But it also throttled the nailed-on certainty of one of the most delightful and prodigious underdog stories in the history of organised sport – the impossibly likeable Afghan team cantering to the semis with all the sweat and panic of one of Alastair Cook's quieter afternoons.
"For the neutral, it was ethically and sympathetically horrifying. Everybody lost. And everybody won. Simultaneously. I'm the wrong generation to know for sure but I think I might have been triggered."
Beautifully put. It was made even more complicated by the fact that Maxwell is one of the most likeable players in world cricket. The whole story was almost too nuanced to function.
WICKET! Afghanistan 45-3 (Hashmatullah c de Kock b Maharaj 2)
Three wickets in three overs for South Africa. Hashmat tries to cut a quicker ball from Maharaj and toe-ends it to de Kock. Afghanistan are in a bit of bother. The camera cuts to their coach Jonathan Trott, whose slightly confused expression does not move – not even a blink – for about five seconds. That was very odd, as if somebody has pressed pause on his facial features.
10th over: Afghanistan 41-2 (Rahmat 0, Hashmatullah 0) On Sky, Nasser points out that nine of Coetzee's 15 wickets at this World Cup have come from short balls – more than any other bowler. If he plays the semi-final, and I think he will unless it's a really dry pitch, there's going to be a river of testosterone out there.
WICKET! Afghanistan 41-2 (Ibrahim c de Kock b Coetzee 15)
Ibrahim is okay to continue – but only for one ball. He gloves a short ball from Coetzee down the leg side and limps off the field as Coetzee yells with the kind of angry joy that is unique to sport.
What a memorable tournament Ibrahim has had: 376 runs at 47 with a strike rate of 76.
9.1 overs: Afghanistan 41-1 (Ibrahim 15, Rahmat 0) Ibrahim inside-edges a very full ball from Coetzee onto his pad, then follows through to whack his toe with the bat. There's a break in play while he receives treatment.
9th over: Afghanistan 41-1 (Ibrahim 15, Rahmat 0) Maharaj starts with a wicket maiden. He has such good rhythm right now and will be a key man in the semi-final.
Gurbaz finishes a slightly frustrating tournament with 280 runs at 31, with a commendable strike-rate of 99. He'd have liked to convert more starts, though we shouldn't forget that his pulsating 57-ball 80 against England kickstarted Afghanistan's success.
WICKET! Afghanistan 41-1 (Gurbaz b Maharaj 25)
Gurbaz was looking good. Alas, he has fallen to Keshav Maharaj's first ball. He pushed forward tentatively at a ball that straightened sharply to take the edge, and Klaasen flew to his right at slip to take a fine catch. Gurbaz goes for 25 from 22 balls.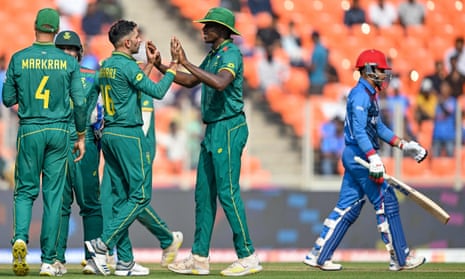 8th over: Afghanistan 41-0 (Gurbaz 25, Ibrahim 15) A change of boot doesn't do much for Coetzee. Two disgusting short balls and pulled and cut for four by Gurbaz, who flicks three more past mid-on. He's looking good.
7.1 overs: Afghanistan 30-0 (Gurbaz 14, Ibrahim 15) The new bowler Gerald Coetzee has a problem with his boot, so there will be a bit of a delay. "You can't be timed out for that, can you?" says Nasser Hussain on commentary.
"Morning Rob, it's a shame isn't it, there was a genuine 'sliding doors' moment in their last game where they go on to complete a comfortable pummelling of the Aussies and this becomes a BIG game," says Mark Beadle. "Ah well. Hopefully they put in another good performance. I know it's difficult to carry momentum from one tournament to another (hi England!), but a bunch of these guys will be at the next one so I think they'll want to do well here."
Definitely. The history of cricket – mainly in Tests, admittedly – is full of landmark victories for emerging nations that empower the next generation to achieve even greater things. It hasn't happened often at World Cups, though. Sri Lanka jumped from easybeats in 1992 to winners in 1996, Zimbabwe didn't build on 1999 for all kinds of reasons and Bangladesh are about as competitive as they were in 2007. It's not just that Afghanistan have won four games, including three against teams above them in the rankings, that makes this feel like a breakthrough; it's the mature way they have done so, particularly with the bat.
What's frustrating about the Australia game, from a neutral perspective, is that at one stage Afghanistan were on course for a 150-run victory. That would have jeopardised Australia and made the net run rate picture far more interesting. Ah well, you can't have a group stage as brilliant as 1987 every time. Or, indeed, ever again.
6th over: Afghanistan 30-0 (Gurbaz 14, Ibrahim 15) Rabada's first ball is a sharp, meaningful bouncer that forces Gurbaz to take evasive action. You see what happens, Larry, when you hit KG Rabada for six?
The next ball cuts Gurbaz in half. But after eight consecutive dot balls from Rabada, Gurbaz drives handsomely wide of mid-off for four.
"Good morning," says John Starbuck. "Yes, there are some of us following the OBO but some of us haven't got to fully functioning state. I've neither had breakfast , taken the morning pills, nor brushed me tegs yet. Probably all in about five overs' time."
6th over: Afghanistan 25-0 (Gurbaz 9, Ibrahim 15) This isn't good: after three balls of his third over, Lungi Ngidi is leaving the field. He's walking freely enough but it looks like an ankle problem so he may be a doubt for the humongous one on Thursday.
Aiden Markram finishes the over with his occasional offspin. Three balls, three dots. South Africa have no other bowling options so he'll probably have to bowl seven more overs. You can't imagine they will take a risk Ngidi given how relatively meaningless this game is.
Talking of which, there's a decent episode of Frasier on Channel 4 right now. Frasier struggles to come up with a clever catchphrase for his show, while Daphne tries to avoid returning to England to visit her family.
5th over: Afghanistan 24-0 (Gurbaz 9, Ibrahim 15) Gurbaz, who faced only five deliveries in the first four overs, makes up for lost balls by dragging Rabada over wide long-on for six.
In doing so, he pokes the bear. Rabada has successive LBW turned down – one slightly high, one going down – and then beats the outside edge with a good delivery.
Given the paramount importance of breaking dismissing David Warner and/or Travis Head as early as possible, I'd be tempted to give Rabada the new ball ahead of Ngidi in the semi-final. Marco Jansen has to take it given his record against left-handers.
"I'm out here, Rob," says Neil Way. "While also working, should my employers happen to read this. Speaking of which, did you run that preamble past your editors?"
Nah, they have better things to do than read a live blog of a meaningless game. So have you!
4th over: Afghanistan 18-0 (Gurbaz 3, Ibrahim 15) Rabada and Ngidi are hammering a good length. Ngidi, in particular, would appreciate a quiet new-ball spell after being taken to the cleaners by Rohit Sharma and Shubman Gill.
Inevitably, the moment I type that, Ngidi drops short and is flayed through point by Ibrahim.
"Hello Rob," writes Matthew Doherty. "I am viewing your output. Is there a player in the match that could count as a pantomime villain?"
Not really. Or, at least, not yet: it's never too late to time somebody out.
3rd over: Afghanistan 13-0 (Gurbaz 2, Ibrahim 11) Ibrahim is dropped, a sharp one-handed chance to the diving Maharaj in the covers off Rabada. He tried another cover drive on the up but sliced it to the right of Maharaj, who is visibly annoyed that he couldn't hold on. It wasn't easy but he'd probably take that catch seven or eight times out of 10.
2nd over: Afghanistan 12-0 (Gurbaz 1, Ibrahim 11) Lungi Ngidi went off with a muscle strain against India, which led to a bit of concern that he might miss the semi-final against Australia, but he's fit to share the new ball.
Ibrahim waves another cover drive for four, a high-class stroke from a perfectly acceptable delivery. He's 21 yearas old, he has an ODI average of 54 and he will forever be Afghanistan's first World Cup centurion. Sometimes, life is good.
A clip for two takes Ibrahim into double figures for the ninth time in nine innings. Nobody aged 21 and under has ever scored as many runs at a World Cup: 372 at an average of 53.
1st over: Afghanistan 6-0 (Gurbaz 1, Ibrahim 5) With Marco Jansen rested, KG Rabada – playing his 100th ODI – takes the first over. And it's a pretty good one. His first ball kicks from a length to beat Gurbaz, who then mishits a drive just over Bavuma at mid-off.
Ibrahim, fresh from an historic hundred against Australia, makes a more assured start, timing his first ball through the covers for four.
For the last time at the 2023 World Cup, Afghanistan's opening pair of Rahmanullah Gurbaz and Ibrahim Zadran walk to the crease. They've added 415 runs in this tournament, which puts them behind only two other partnerships: Quinton de Kock and Rassie van der Dussen of South Africa, and Devon Conway and Rachin Ravindra of New Zealand.
Urgent pre-match business
Make your vote count! (Ideally after listening to the podcast, but it's not a dealbreaker.)
Pre-match reading
This is a really excellent piece from Taha Hashim on Afghanistan's tournament.
Afghanistan are unchanged. South Africa make two changes: Marco Jansen and Tabraiz Shamsi are replaced by Andile Phehlukwayo and Gerald Coetzee, though Temba Bavuma stresses they have been rested rather than dropped.
Afghanistan Rahmanullah Gurbaz, Ibrahim Zadran, Rahmat Shah, Hashmatullah Shahidi, Azmatullah Omarzai, Ikram Alikhil (wk), Mohammad Nabi, Rashid Khan, Mujeeb Ur Rahman, Noor Ahmad, Naveen-ul-Haq.
South Africa de Kock, Bavuma, van der Dussen, Markram, Klaasen, Miller, Phehlukwayo, Coetzee, Maharaj, Rabada, Ngidi.
Afghanistan win the toss and bat
The captain Hashmatullah Shahidi thinks the pitch will spin the second innings, so this could be a very interesting test of South Africa's ability to chase.
"We haven't done it well," says their captain Temba Bavuma, "so we have another opportunity to learn in terms of a blueprint, and take confidence from doing so."
We're all friends here, so let us speak frankly. Go. Bugger off. Do something else. Watch repeats of Frasier on Channel 4. This game between South Africa and Afghanistan, which promised so much, is essentially meaningless.
Glenn Maxwell's mind-blowing double hundred and New Zealand's long, soothing, ooh-I-didn't-realise-I-had-so-much-tension-there net run rate massage against Sri Lanka mean that Afghanistan can no longer qualify for the semi-finals. Had they beaten Australia, a win here would have put them through. But they didn't, and it won't, so what are we going to do?
Celebrate Afghanistan, for a start. They may not have made the semis but they are one of the teams of the tournament, and this is their last match of a campaign which, all things being equal, will be recognised historically as their big breakthrough.
It's a pretty important game for South Africa, a de facto warm-up for Thursday's humongous semi-final against Australia, and a chance to replenish their morale after they were demolished by India last weekend.
With that in mind, what should Temba Bavuma do if he wins the toss? Bat first and try to resume normal servie by scoring 350+? Or bowl first to give South Africa more practice at chasing, thereby also increasing the risk of a damaging defeat?
We'll find out soon enough. The match starts at 8.30am GMT, 2pm in Ahmedabad.