England v Netherlands: Cricket World Cup 2023 – live | Cricket World Cup 2023
Key events
17th over: England 111-1 (Malan 72, Root 20) Malan slog-sweeps Van der Merwe's first ball for the first six of the innings. The heavy lifting done for the over, he and Root collect four low-risk singles. That's drinks.
"Urgh, do we have to," says Alistair Connor, quoting today's already award-winning preamble. "Yes, you damn well do. Bear in mind, Rob, that there is a significant and colourful minority among your readership who are not England supporters, and who are here today for the schadenfreude.
"Personally, I have a great love for this England side, and it's mostly your fault (along with all your esteemed OBO colleagues). Following the epic exploits of a legendary line-op over the past decade or so has been quite a journey, and it's on the OBO that it's all happened, for me anyway.
"Also: England gave the world Shakespearian tragedy. There is always a rich comic element in the best tragedies. Play on!"
Believe me, England batting collapses are part of the scaffolding of my life. Every scorecard triggers a precise memory, usually involving the abbreviation FFS.
16th over: England 101-1 (Malan 64, Root 18) Colin Ackermann comes on to bowl his occasional offies. A single from Root, one of five in the over, brings up a low-key fifty partnership from 54 balls.
15th over: England 96-1 (Malan 61, Root 16) Here's the left-arm spinner Roelef van der Merwe. He played against England for South Africa at the 2009 Champions Trophy, the match in which Eoin Morgan first demonstrated his coruscating brilliance in an England shirt. Four singles from the over; despite a sedate last half hour, England are still going at more than a run a ball.
"In terms of where we go from here. I think jettisoning a lot of players who aren't performing, no matter how long they have done well for us, is the best thing to do," says Stephen Brown. "There is a case to be made (by someone better informed and with more time than me) that part of our problem is the likes of Malan have come into the set up too late because we showed too much loyalty to Jason Roy even while he was having an extended barren run.
"Liam Livingstone is another who doesn't seem to offer a consistent value to the team. Two half centuries in the 10 innings he batted before the World Cup is not mind blowing and while I accept the need for spinning options in India, again his figures do not jump out.
"I think Moeen's column recently suggested we should be switching to the younger players, which is a fine idea, but doesn't go far enough. We need to be more ruthlessly in picking on form as well. But perhaps we should just get through these next two games and hope some dignity can be restored first…"
I suppose there are few points to make – how much crossover is or should there be in selection for the two white-ball codes, and how can you judge form when hardly any of these players were ODI regulars from 2021-23? I wouldn't necessarily agree that Malan suffered from excessive loyalty to Jason Roy because they generally opened together in the absence of Bairstow (and Roy played pretty well in the 12 months before the tournament).
In hindsight, winning the T20 World Cup was a mixed blessing because it cemented an it'll-be-alright-on-the-night attitude and almost certainly created a subconscious complacency. It's genuinely sad but these things happen in sport, and I don't think it diminishes a pretty glorious legacy.
14th over: England 92-1 (Malan 59, Root 14) No matter how bad his form, Joe Root can always rely on his reverse scoop. He dumps Van Meekeren to third man, the first boundary of the innings from his 15th delivery, and a stylish flick through midwicket brings two more. It would have been four but for an excellent diving stop by O'Dowd.
13th over: England 82-1 (Malan 58, Root 6)
12th over: England 78-1 (Malan 57, Root 3) It's a bit of a quiet spell, with just nine runs scored in the last three overs. Root is taking some time to get his eye in, a reflection of his low confidence. At his best, as Ravi Shastri says, he breezes to 20 off 25 balls without anyone noticing. Today he has 3 from 10.
"For all Bairstow's failings lately, he's not the only one by any means," says John Starbuck. "Also, he has a value in being a very good second wicketkeeper if needed. Can Harry Brook keep well enough yet?"
Erm, I don't think so, although with his natural talent he'll probably turn out to be the second coming of Alan Knott. The scrap for places at the T20 World Cup will be fascinating. Eight of the XI who won last year's final are in this squad. The exceptions are Alex Hales (who has retired), Phil Salt and Chris Jordan. Then you have all the younger players: Duckett, Crawley, Jacks, Rehan, Tongue, Turner and – please, please – Jofra Archer.
If the Caribbean pitches are as expected, spin will be really important. Rehan Ahmed looks the real deal in T20 cricket so may well leapfrog Moeen and/or Livingstone.
11th over: England 73-1 (Malan 53, Root 2) Bas de Leede replaces Aryan Dutt, who bowled a useful spell of 5-0-25-1. Malan leathers a straight drive that is well stopped by de Leede in his follow through. "This is such a good pitch," says Ravi Shastri on commentary. "Flat, like the expressway just behind this ground."
In other news, apparently the forecast for tomorrow's game between New Zealand and Sri Lanka is dodgy, which could be a gamechanger. If that match is rained off, Pakistan and/or Afghanistan will move above them if they win their final game: Pakistan v England, Afghanistan v South Africa.
10th over: England 70-1 (Malan 50, Root 1) Paul van Meekeren comes into the attack and surprises Root with a bit of extra bounce. Root drops the ball safely on the off side, and the rest of the over passes without incident.
In other news, this is a longshot but if anyone reading a) is over 40, b) wants to play a regular game of football and c) lives near or in Bruton, Somerset, please get in touch. I'm trying to organise a regular game, because I'm a community-facing person and that's just what I do to get fit, have fun, etc.
9th over: England 69-1 (Malan 50, Root 1) Joe Root's run of scores in this tournament is a mathematical puzzle not even Max Fischer could solve: 77, 82, 11, 2, 3, 0, 13.
He gets off the mark with a bread-and-butter single. Dutt undoes the good work of the last few overs with a long hop that is slapped for four by Malan. A work off the pads takes him to tranquil half-century from 36 balls with 10 fours. As Malcolm Tucker might say, England's World Cup failure is NHFP.
8th over: England 63-1 (Malan 45, Root 0) Malan is playing superbly. He crashes a pull over midwicket for four, pings a square drive to the fence and belts a drive through the diving extra cover. Three boundaries in the over and nine in the innings already for Malan.
Seven of those have come off poor Logan van Beek, who has T20 figures of 4-0-44-0.
7th over: England 48-1 (Malan 31, Root 0) It looks like there are nine matches before the T20 World Cup – five in the Caribbean next month, then four against Pakistan in May. Trouble is, most of this squad will surely be given next month off, especially as it's a perfect chance to launch a new ODI era.
WICKET! England 48-1 (Bairstow c van Meekeren b Dutt 15)
Jonny Bairstow's miserable tournament continues. He tries to hoick Dutt over the leg side and top-edges a simple catch to fine leg. That's well bowled by Dutt, who had started to build some pressure with a series of dot balls.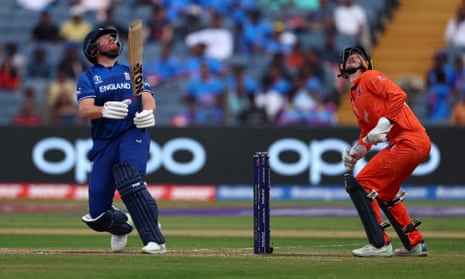 6th over: England 47-0 (Bairstow 15, Malan 30) This is the sixth successive toss that Jos Buttler has won, which makes England's failure even more surprising. Then again, they effectively lost the toss in the key games against Afghanistan and South Africa because they made the wrong decision. In hindsight, that brutal last hour and a half in the field against South Africa was when this team died.
Van Beek continues, conceding five singles from his third over. Bairstow has 15 from 16 balls, Malan 30 from 20. I wonder how many of this team will make next year's T20 World Cup. They have to freshen the team up, but equally you can make a case for each thirtysomething individual geting another chance. It'll only seven months away. I suppose it will depend on form in the preparatory matches, assuming there are some.
5th over: England 42-0 (Bairstow 13, Malan 27) A better over from Dutt, three singles from it.
"Where would the shock-o-meter register," says Krishnamoorthy V, "should Pakistan trounce India in the semis and clinch the trophy after beating SA in the finals?"
It would register in my beating heart, that's for sure. After the unforseeable surges of 1992, 2009 and 2017, Pakistan winning a major tournament should never be a shock. That said, I expect New Zealand to go through.
4th over: England 39-0 (Bairstow 12, Malan 25) On commentary, Eoin Morgan is talking about his golden duck when England made 498/4 against the Netherlands. "Bit two-paced that wicket," he says. "Tinge of green… You know it's time to go when your team nearly scores 500 and you can't even get off the mark!"
Malan has started beautifully. A straight drive off van Beek takes him to 24 from 12 balls, all in boundaries, but he breaks that run by pulling the next for a single. In the context of England's shocking tournament there's something quite poignant about the performances of Malan and David Willey, who have waited so long to play in an ODI World Cup.
Bairstow continues England's assured start with a crisp flick through midwicket for four. It would be just like this team to score 1000 today.
3rd over: England 29-0 (Bairstow 7, Malan 20) Malan makes it five boundaries in the first eight balls by slapping Dutt through the covers and edging the next ball wide of the keeper. England look in the moment to take out their frustration on the Netherlands bowlers.
"Morning Rob," says Guy Hornsby. "This feels like a very cricketing hangover after the otherworldly feats of Glenn Maxwell yesterday. The can't-walk-but-I'll-slap-you-for-six-anyway section of that innings is barely believable. And it's perfect that it's England, of course, queueing up for another banana skin. Could you imagine any of that team today doing event 30 per cent of that? It's hard to remember we were world-beaters, such is the slump. I'm glad Atkinson and Brook are in, but can anyone explain why Stokes isn't flying home and preparing for a knee op now? Barney's article seems very apt. Who is running the show here, exactly?"
I think that's a bit harsh. I would have asked Stokes if he wants to go home, but in a situation like this England can't really win. Imagine if he went home, then a batter got injured and a light top order (Livingstone at No5) was skittled today or against Pakistan. When you lose six games in a row, nothing you can do will stop the bloodlust.
There is part of me that wonders what Stokes playing at, as he seems very laissez-faire about his knee injury, but he's England greatest ever cricketer (IMO) and has enriched our lives so much. I'd forgive him almost anything.
2nd over: England 19-0 (Bairstow 6, Malan 12) Dawid Malan vrooms serenely out of the blocks, timing Logan van Beek for three successive boundaries: a flick behind square, a sweet off-drive and an even sweeter cover-drive.
Malan is the only England batter who has had a half decent tournament: he's on 298 runs, with Joe Root the next best on 188, although 140 of those came against Bangladesh. He and Harry Brook are the only batters with a strike rate in excess of 100.
1st over: England 6-0 (Bairstow 6, Malan 0) The offspinner Aryan Dutt starts to Jonny Bairstow, who had had an increasingly desperate tournament: 141 runs at an average of 20, and 85 of those came in the first two games. He gets off the mark with a brusque sweep round the corner for four, then swaggers down the wicket munching his gum. A squirt past point brings two more.
"Good morning Rob," writes Krishnamoorthy V. "There were a lot of discussions on Angelo Matthews in the OBO yesterday till the MadMax screening took over. The irony of the jump in focus from one for whom time ran out to one for whom time stood still can't be ignored."
Heh, very good. It's the best ODI innings ever, right? Or, at least, it's the best big ODI innings ever. It's very hard to compare it to great innings in lower-scoring games, for example Graham Gooch against the four horsemen in 1986.
From the archive (and in urgent need of an update)
If you had the fortune to be born a cricket nerd, you might like this: a retro draft based solely on form in the 1999 World Cup. It's not often Geoff Allott and Henry Olonga are picked ahead of Curtly and Courtney.
Anyway, back to today's game. Here are Ali and Barney's previews.
This is such a good interview with Stuart Broad by Donald McRae. A couple of highlights.
"It's deeper than you think," Broad says of McCullum's philosophy. "He's been incredibly disciplined with his language. At no stage has he ever been negative or critical. Rather than being like a head coach, he is more of a psychologist.

"He would say to Zak Crawley: 'I don't want you to average 40 by getting 40 every game. I prefer you to go nought, nought, nought, 70. Win me that game.' Like Zak did at Old Trafford – bang, (189 – although England's victory push was ruined by rain). So he really drives home the positive messages. I watched him before the Old Trafford Test. Jonny was having a tough time and so Baz played golf with him, sat next to him at dinner, threw him underarms at training. He spent a lot of time reinforcing Jonny's strengths. And Jonny goes out and gets 99 (not out). It's quite impressive.
McCullum hates the expression 'Bazball' but, as Broad says with a grin, "It's made the dictionary. The Aussies spent the last six months denying the fact it exists. Every interview they say: 'Bazball is not a thing.' But I will win that argument 100 times out of 100. I just show them the economy rates of bowling figures."
Two changes for England: Harry Brook and Gus Atkinson replace Liam Livingstone and Mark Wood. The 2027 World Cup starts here.
Netherlands make one change. The allrounder Teja Nidamanuru comes in for Saqib Zulfiqar.
England Bairstow, Malan, Root, Stokes, Brook, Buttler (c/wk), Moeen, Woakes, Willey, Rashid, Atkinson.
Netherlands Barresi, O'Dowd, Ackermann, Engelbrecht, Edwards (c/wk), de Leede, Nidamanuru, van Beek, van der Merwe, Dutt, van Meekeren.
England win the toss (yet again) and bat
"It looks a good surface," says Jos Buttler. "We'd like to take advantage and post a good score."
This is the saddest thing you'll read today (unless you heard about it two days ago – it's new(s) to me)
Eff Marhaba Sports India, eff YouTube, eff all of it.
Of course we have to. England are playing at a World Cup and societal norms dictate that, no matter how severe the ennui engendered by a tragicomic title defence, it would be poor form to ignore the game and liveblog repeats of Frasier instead.
And while this feels like the final Test of an Ashes tour gone bad, there is actually plenty to play for. England need to win at least one and probably both of their last two games to qualify for the 2025 Champions League, an important rite of passage for the next generation of ODI players.
Overnight reports also suggest Matthew Mott's employment prospects may hinge on today's result. My hunch is that he will stay regardless – he has a World Cup to defend next year – but you can understand the perception that defeat to the Netherlands would be a humiliation too far, even if it is a bit insulting to an impressive side who have enriched this tournament. And who, lest we forget, are above England in the table.
England butchered 498 for four against the Netherlands in Mott's first game as white-ball coach. That was 17 months and a lifetime ago, when Eoin Morgan was still captain and England's aura was intact.
It has disappeared forever in this World Cup, a genuinely sad way for England to exit a stage they owned for so long. Let's see whether they have one last domineering performance in them.
Urgh, do we have to?